---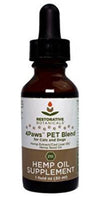 4Paws Pet Blend
4Paws PET Blend™ Hemp Oil combines our extracted hemp oil containing naturally occurring terpenes, flavonoids and other phytocompounds from Certified Colorado hemp, cod liver oil and cold pressed organic, virgin hemp seed oil, in a well balanced nutritional blend designed to keep your companion feeling calm, healthy and comfortable.*
4Paws PET Blend is designed to support optimum health and wellness for your special companions.* All vertebrate animals have interconnected physiological s4Paws PET Blend™ Hemp Oil

Supercritical CO 2 Extracted Hemp Oil | This hemp oil blend for pets contains a broad spectrum of phytocompounds extracted from certified Colorado industrial hemp plants, using the clean and gentle supercritical CO2 process, free of any harmful residual solvents. This extracted hemp oil is rich in naturally occurring phytochemicals that support systemic relief for weary muscles and joints and an overall sense of calm during periods, travel, separation, or other tension inducing events.*
Cod Liver Oil | High in vitamins and nutrients, cod liver oil is an excellent source of vitamins A and D, DHA, EPA, and Omega-3.*
Cold-Pressed Hemp Seed Oil | Cold pressed hemp seed oil is an excellent source of omega 6 and omega 3 fatty acids in a beneficial 3:1 ratio and is a nutritious oil infusion for our well balanced 4Paws PET Blend.
4Paws PET Blend hemp oil contains many beneficial terpenoids, flavanoids, omega-3 and omega-6 fatty acids, vitamins A and D, trace minerals, and other beneficial phytocompounds derived from certified Colorado hemp.

Always check with your veterinarian before starting a new dietary supplement program for your pet.

ystems which respond positively to the benefits of the many naturally occuring compounds found in hemp. 4Paws™ PET Blend is specially formulated to provide these health, wellness and nutritional benefits for companions animals such as cats, dogs, ferrets and other mammals.
Calming Non-Psychoactive Relief for Companions
Extracted Hemp Oil  With A Broad Spectrum Naturally Occurring Phytochemicals For Cats and Dogs
Support for Weary Muscles and Joints, Calming Disposition and Overall Health

C

O2 Extraction Process With No Harmful Residual Solvents
Made IN USA With CO2 Extracted Oils From Certified Colorado Hemp
To see reviews, click on REVIEWS in the menu,